Yoga classes anytime, anywhere
Get your Yoga workout anytime, anywhere
Quick yoga in 7 minutes or 14 minutes with Breathing, Essentials and Yoga kriyas.
Your yoga class with Breathing, essentials and core yoga poses
Recommended mantra
Recommended breathing
Any modifications or substitution advice
Benefits of the pose
Upcoming pose or rest period
Yogamap has features that enable your yogic lifestyle
Custom configurations depending on your yoga work-out needs,  with a meditation component that is also configurable so you can tailor it to your needs.  Everything from inspirational quotes to tracking your 7 day workout discipline.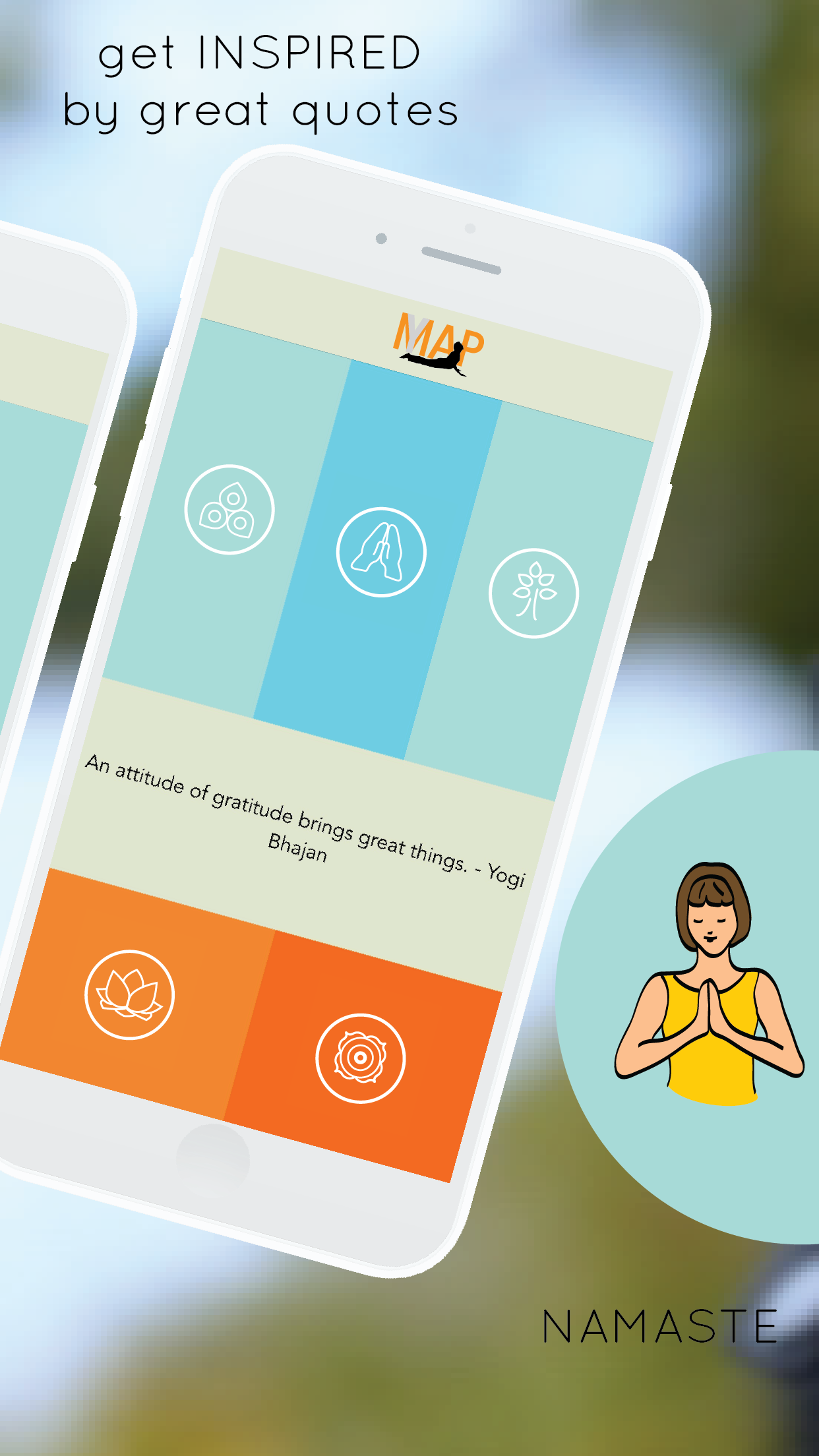 Flexible duration
Set either a 7 minute yoga workout or a 14 minute one.  Also, set your own transition time and let Yogamap tailor the class for you.
Yoga or Meditation
Choose either a meditation or yoga depending on what you feel like.
Track your yoga and meditation progress
Track your 7 day progress for yoga and meditation easily.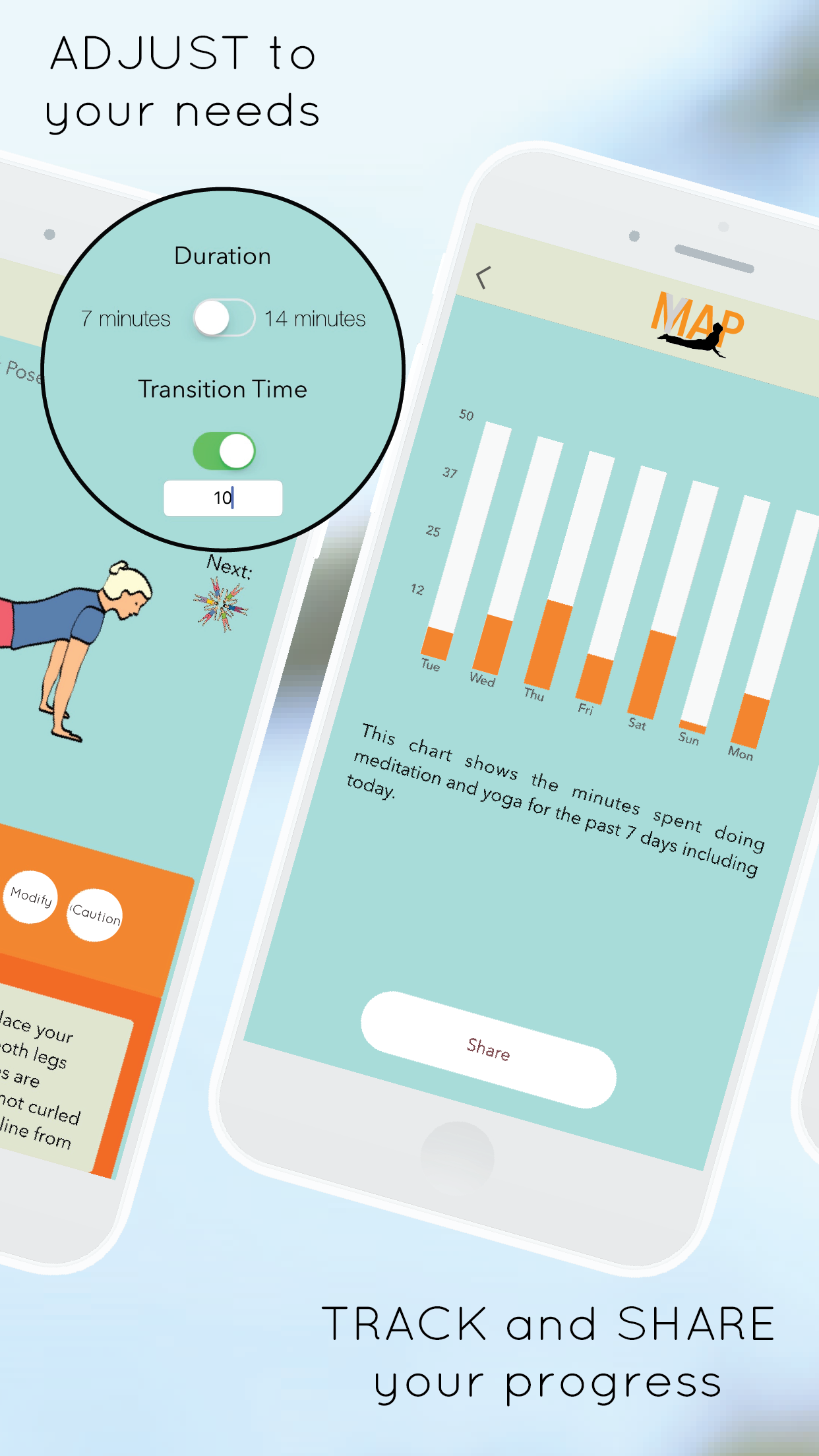 Yoga your way
7 minute or 14 minute yoga workouts keeps things moving and is quick for anytime during the day.  Want a longer yoga class do two or even three 14 minute workouts.
Yoga workouts
Yoga exercises are different each time from an ever growing library of poses and kriyas divided into breathing, essential yoga and core yoga poses.
Configurable
Set your own transition time.  Yogamp features configurable transition time to move between poses or take a short breather.
Meditations
Meditate your way at anytime – set your timer and Go.
Progress Tracking
Track your progress and see how much time was spent in the last 7 days on your practice.
Learn about benefits of Yoga
Each pose shows the benefits of each yoga pose with variations including breath and mantra.  Get inspirational quotes and more.
Start your journey or continue it with the Yogamap whether you are into Hatha, Flow, Vinyasa, Kundalini or Sivananda yoga.
Check out these other cool websites and apps by the same authors :-
Yogicfoods.com features vegan & vegetarian recipes, yogic diet & great tips for a yogic lifestyle.
iTantric.com feature the iTantric app based on Tantric numerology that calculates your 5 Tantric numbers. Every number focusses on a different aspect of you.  Do you need to strengthen your number? We have the meditation, yoga or mantra for you based on your numerology.
Please contact us at app@yogamap.com for any questions.
Get the latest news about updates, tips and more by following us on social media.
Other cool apps from the same authors as Yogamap:
Yogamap channel on YouTube is on. We started the Yogamap to promote the yogic lifestyle with a couple of points :- Promote the yogic lifestyle for busy people who have limited time to spend hours in morning sadhna (like I used to for many years).  Btw, morning sadhna...